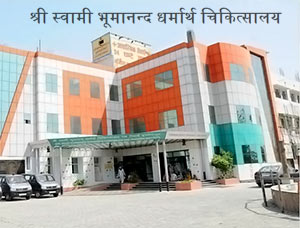 With the objective of obviating the hardships faced by the people of Uttrakhand in reaching Meerut or even Delhi to get medical aid, Jagat Guru Shankracharya Swami Achyutanand Teerth Ji Maharaj established Swami Bhoomanand Hospital at Jwalapur (Haridwar) in the memory of his revered Guruji Punya Shlok Brahmlin Shri 1008 Swami Bhoomanand Teerth Maharaj.
Swamiji always said "Hospital is a Temple; Patient is God; and Doctor is Priest".His holiness Shankracharya Swami ji Maharaj has still to do a lot for the suffering community and therefore decided to establish a ultra modern multi specialty hospital equipped with latest technology and availability of expert doctors . His pious mission came true with start of Shri Swami BhumanandDharmarth Chikitsalaya and Research institute in the year 2009.
     The hospital is aimed to provide the specialist treatment, rehabilitation, awareness and prevention of various diseases and intensive health care. The hospital is working on the welfare for the under privileged community and committed to contribute to human welfare . For the middle and upper class patients also the tariff with in affordable limits.
Address: 
Ranipur Jhal, Jwalapur, Haridwar, Uttarakhand 249407
E-mail- bhumanand.haridwar@gmail.com